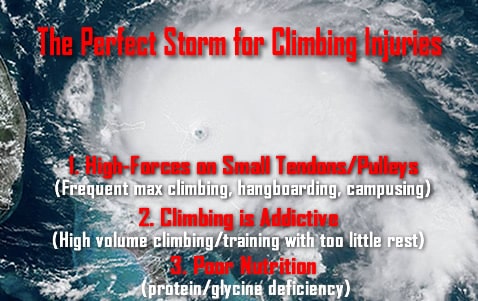 Incidence of climbing injuries is growing, and overuse injuries to the fingers, elbows, and shoulders are common among beginners and experts alike. In this podcast, Eric Hörst details the perfect storm of factors that make upper extremity overuse injuries so common. You will learn countermeasures to reduce your injury risk and increase tendon health and finger flexor pulley strength. If you engage in hard finger training, frequently push your physical limits, and/or occasionally experience tendon or joint pain, then this podcast will be game-changer for you! Be sure to revisit the first three podcasts in this series.
Listen to (or Download) Episode #39 on Climbing Injuries Now!
You can also listen on iTunes or Spotify by subscribing to "Eric Hörst's Training For Climbing" podcast!
---
Want Stronger Fingers, Tendons, and Pulleys?
Supercharged Collagen is the first tendon-support protein supplement designed specifically for rock climbers. Research-based and athlete-tested, Supercharged Collagen is used by professional and beginner climbers alike to support healthy, stronger tendons and pulleys. Learn more >>
---
---
Instagram -
@PhysiVantage
Facebook -
@PhysiVantage
For a comprehensive study of
Training for Climbing, check out the 3rd edition of Hörst's best-selling book!
Follow Eric on
Twitter @Train4Climbing
Check out
Eric's YouTube channel
.
Follow Eric on Facebook!
Music by:
Misty Murphy
SUBSCRIBE!
---
Copyright © 2000–2019 Eric J. Hörst | All Rights Reserved.